Quick start guide - basic conversion                                                      
If you're not an advanced user and/or simply want to convert a video (or more) to DVD without any editing, then simply:
1)
Insert your files
into software (drag and drop or use the green cross button to browse your file(s).)
1b) Optional
: if you click on the titleset, the preview window will show on the right: you can check the video by clicking on the "play" icon in the middle of the screen. The tabs under this preview lead to most available editing options. More about these options below under 'Overview of editing function in tabs'
2)
Insert a blank DVD
if you wish to burn your conversion straight to DVD
3)
Press "Convert
".
You're all set!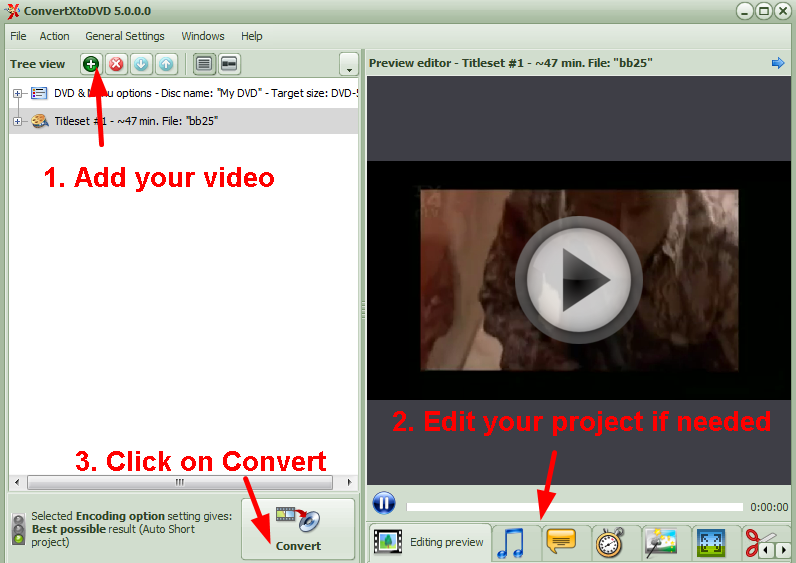 Now, to make the most of the software and to customize your video to your exact needs, you can go deeper and edit your file(s) in a simple way.
For an overview of all available options, check out the guides below:
> Index of Complete guide


Basics
Editing tabs under the preview window
Other quick links
*Any changes made here will affect the titleset selected in the treeview, showing in the preview window.  

If you want change settings that will apply to all your titlesets and/or all your future conversions in ConvertXtoDVD you should make these in the General Settings, in the top menu of ConvertXtoDVD.